The Harris County Department of Education Adult Education Division's nonprofit consortium provides literacy services to educationally disadvantaged adults beyond compulsory school age in the Houston/Harris County metropolitan area, with the goal to combat illiteracy and implement workforce development.
The Harris County Adult English as a Second Language (ESL) class program is the most frequently requested service at SBFDC.  Typically, registration for each session fills up within 20 minutes of opening.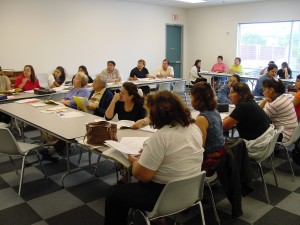 At SBFDC, HCDE provides ESL classes to 200 adults, in morning or evening sessions during two-month cycles.
We at the Spring Branch Family Development Center dream of building more space to accommodate more ESL clients — we could easily triple the participation if we had the rooms!
 For more information:
Visit Harris County Department of Education's website, or call 713-694-6300.
To call about classes at SBFDC, call 713-996-8781, or check our calendar for registration dates.
---
 Hours at SBFDC:
9:00AM-12:00PM – Monday – Wednesday
6:00PM-9:00PM – Monday – Wednesday
---