Pictured: Linda Buchman (Spring Branch ISD), Ricardo Barnes (SBFDC Executive Director), Council Member Brenda Stardig (District A, City of Houston), Martin Mayo (SBFDC Board VP), Governor Greg Abbott, Jane Barnes (Memorial Hermann – PARC)

The SBFDC was recognized with the "Community Leadership Award – Family Services" Governor's Volunteer Award 2016 !
The Governor awarded 11 Texas organizations for making a difference in communities through service and volunteering. 
The Governor's Office explained, "This award recognizes an individual, group or organization for strengthening their community through intentional partnerships. Nominees understand the importance of service and develop connections between groups and individuals to help craft collaborative solutions to local needs. They exhibit a dedication to their community that inspires those around them to serve. Any individual, group of individuals, faith-based or community organization including civic groups, and government agencies can be nominated for this award.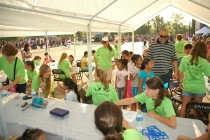 The Spring Branch Family Development Center coordinates a multi-agency collaborative, providing educational, recreational, health and social services in English and Spanish. Opening in 2001, the Spring Branch Family Development Center serves over 12,000 people annually and provides low-income families with one-stop access to many holistic tools to help them succeed. An early motivator was to decrease the 40 percent turnover rate at the local elementary school. To increase public health awareness, each year, the Spring Branch Family Development Center invites 40 community vendors and over 300 volunteers to host an annual Back-to-School Health Fair. Over the past eleven years, the collaboration at the health fair enabled 45,000 community members to receive over $2.75 million worth of services by providing free immunizations to 5,000 children and distributing 25,000 backpacks with school supplies."
 Find the press release here.
This award is a result of a collaborative community effort over many years.  Through your time, treasure and talent. You are part of what made this award possible. Thank you!