It's a little known fact that the SBFDC has a resident bike mechanic!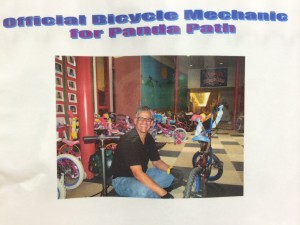 Every year, before SBISD Pre-K Panda Path's Bike-a-Thon, supported by the Memorial-Spring Branch Rotary Club, our own Executive Director, Ricardo Barnes, tunes up children's bicycles. The goal of the Bike-a-Thon is to instill a sense of philanthropy at an early age, along with sharing with others (not all of the children have bikes, so they work out a plan to share so everyone can be in on the fun). The Panda Path children and parents work to get pledges for completing a certain number of laps during the Bike-a-Thon. To make sure that the kids are ready, our Executive Director brings out his tools to make sure that the bikes will be in good shape. Today, he worked on 25 bicycles to ensure they were safe and ready to roll on Friday. We expect some more to roll in tomorrow!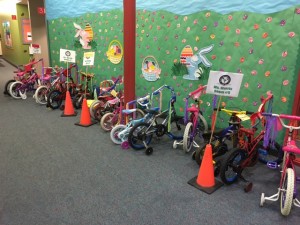 Each year, Panda Path students raise funds, as classrooms, to give to charity – kids are learning how to be generous and work as a team at a young age. At the Bike-a-Thon, Memorial-Spring Branch Rotary Club provides helmets to children who do not have one. We are looking forward to Friday where we know much fun will be had!